STUDIO – Technical Specifications
The Drums
• 1982 Yamaha 9000 Series
• 10" 12″ 13″ 14″ Toms, 22″ Bass Drum, Ludwig 400 Snare
Microphones
• Calrec 1050C for Overheads
• AKG451 Hi Hat •  Audix D2 & D4 for toms
• Audix i5 for snare top
• Shure SM57 for snare bottom. There are 2 Bass Drum Mikes
• Audix D6 for inside the bass drum and an
• ADK S7 for outside the bass drum.  T BONE RB100 – As an Ambient mic.
The Studio Gear
• MacPro Quad Core Intel Xeon • OS 10.10.3
• Logic Pro X 10.2.4 (32bit) • SSL XLogic Alpha-Link & MadiXtreme 64 PCI Card. Hi Speed Madi I/O
• SSL X-Desk
• Audient ASP008 X 2 Mic Pre Amps (16 channels In)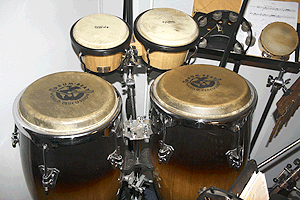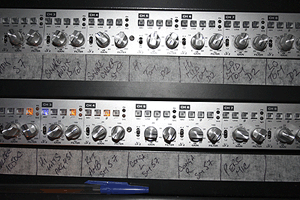 Other Info
Wav files as default, 16/24 bit  44.1K   48K or 96K sampling rate as requested.
If your track has no tempo changes & is in only 1 time signature simply send me a stereo music track (or mono if you prefer) 😉 with the BPM & I will create my own click track. If your track is more complicated i.e. a few tempo changes & time signature changes then send me your tempo map & or a midi file of the song. I would simply paste your tempo & meter changes information onto my own studio template. Any other directions you want to give me either e-mail or text or we can talk on the telephone! It's all so simple & it works!
All audio will be nicely valeted! (start wherever your composition starts & cleaned up at the end!)
Payment can be made by cheque or BACS (my preference) or via PAYPAL